Lent
Draw nigh to God, and he will draw nigh to you. St James 4. 8.
Beginning with Ash Wednesday, Lent is a period commonly marked by solemnity, prayerfullness, reflection, and fasting. During this time, we spend 40 days in preparation for Jesus' ultimate sacrifice for us. In the church building, Lent is marked by the removal of some ornamentation (some churches veil their crosses in violet). Although each person marks their own Lent differently, one tradition that has developed over the centuries is the weekly praying of the Stations of the Cross - the Passion of Christ.
Traditional Stations of the Cross (PDF)
A traditional Lenten service
During the season of Lent, in addition to our regular weekly service times there will be:
8PM Sunday evening Compline - the candlelit last service of the day;
5PM Wednesday evening Eucharist (combined with a shortened Evening Prayer); and
7PM Friday evening Stations of the Cross, using the booklet above.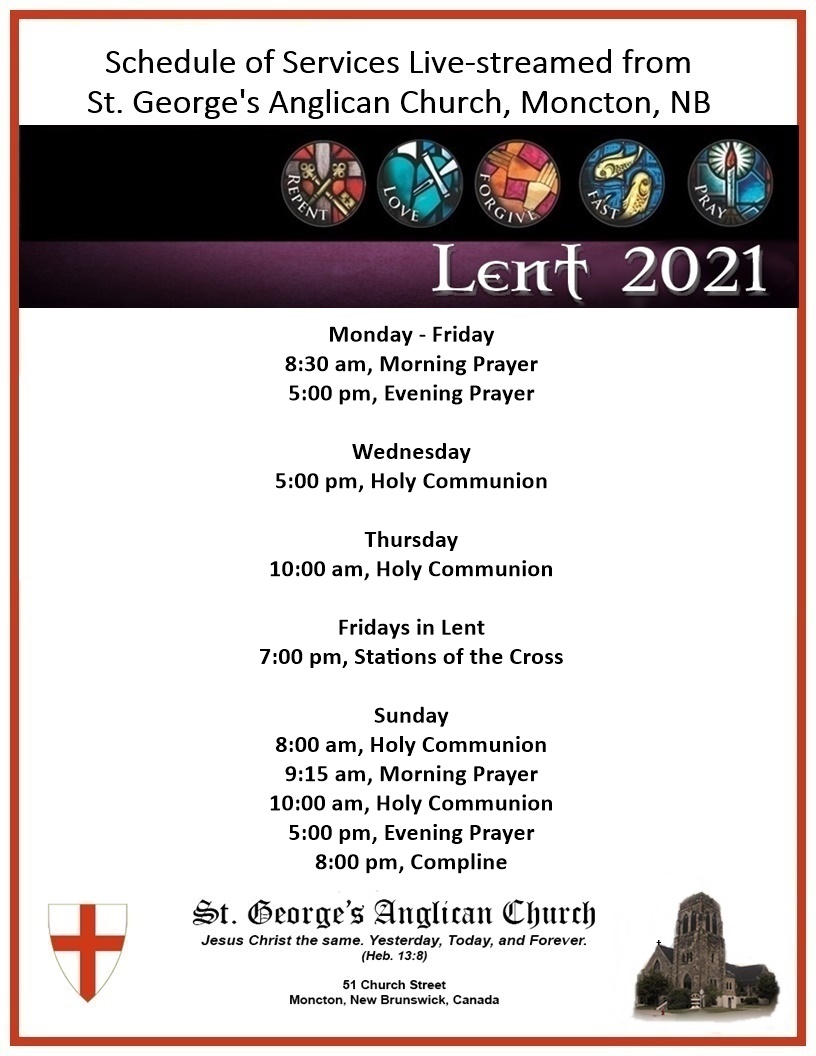 Holy Week & Eastertide
Truly this was the Son of God. St Matthew 27. 54.
This period marks the pinnacle of the church calendar. It is during this most Holy time that we commemorate the ultimate sacrifice that our Lord and Saviour made for us all. Holy Week, from Palm Sunday to Easter, captures some of the most important moments in our Christian beliefs: The arrival of our Lord in Jerusalem (Palm Sunday), the institution of the Eucharist at the Last Supper (Maundy Thursday), His death and burial upon the cross on Good Friday, the service of light during the Easter Vigil, and the Resurrection of our Lord on Easter Sunday. On Good Friday, our church has a tradition of walking through downtown Moncton with a large wooden cross using the document below.
Way of the Cross - The Seven Last Words of Jesus (PDF)
A Good Friday Service
Following Easter Day, Eastertide lasts until Ascension Day 50 days later. Please join us for this most festive time of year! Service times will be updated on the Service Times page.